Eden Theology Seminary to Honor Three Distinguished Leaders
2018 Honorary Degree Recipients to be Recognized at Eden's Commencement
In anticipation of our upcoming commencement, Eden Theological Seminary announces the selection of three outstanding community leaders who have earned the institution's highest recognition and will be awarded honorary degrees.
"These remarkable individuals embody the values which are fundamental to Eden, our students, and our global alumni network," David Greenhaw, president of Eden Theological Seminary said. "Through the use of their talents, dedicated leadership and unwavering commitment, they are creating dialogues and changing lives both within their communities and around the world. We are humbled by their accomplishments and proud to bestow these degrees upon them."
Following are the 2018 Eden Theological Seminary honorary degree recipients:
Timothy O'Leary, general director of Opera Theatre of Saint Louis, will receive a Doctor of Humane Letters in recognition of his relentless commitment to tackling innovative, artistic programming that often incorporates significant social messages and brings national acclaim to the St. Louis community. 
Two examples include Opera Theatre's 2011 production of the rarely staged The Death of Klinghoffer, which chronicles the Achille Lauro incident of 1985, and the company's 2016 world premiere of Shalimar the Clown, based on the novel by Salman Rushdie. A member of the board of directors of the St. Louis Diversity Awareness Partnership, as well as a steering committee member for Arts and Faith St. Louis, O'Leary gathered input and feedback from diverse members of all faith groups prior to producing these works. Because of his steadfastness and dedication, these operas inspired informed, thoughtful discussions within the St. Louis community and around the globe, as well as earning widespread acclaim.
Known throughout the St. Louis area as MamaCat, Cathy Daniels will receive a Doctor of Humane Letters.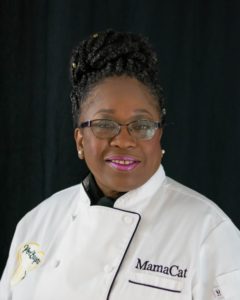 Daniels, a community and business leader, has become a regional advocate to among a wide contingent of activists, faith leaders, community organizers, and concerned citizens to raise awareness and meet the needs of unhoused people in the St. Louis. During her work with the Ferguson movement and the Michael Brown protests, she was awakened to the unmet needs and plight of homeless people in St. Louis. She has subsequently created a collaborative partnership which prepares more than 150 meals each week to deliver nutritional and spiritual sustenance to those whom she refers to as "unhoused family" on the streets of St. Louis.
Author and editor Elisabeth Sifton will be awarded a Doctor of Humane Letters.
Sifton is the daughter of well-known Eden alumnus Reinhold Niebuhr, an American theologian, ethicist, professor, political commentator, and author of The Serenity Prayer. She has worked tirelessly to preserve her father's legacy and vision, particularly in times of turbulence and change. In addition, she is dedicated to conveying the significance and influence of her father's work on world leaders including Barack Obama, Jimmy Carter, and Martin Luther King, Jr., to name just a few. Sifton is the author of The Serenity Prayer: Faith and Politics in Times of Peace and War. She recently edited Reinhold Niebuhr: Major Works on Religion and Politics, a Library of America volume comprising some of her father's most important essays.
Eden's commencement will be held on Friday, May 18, 2018 at 7:30 p.m. at Manchester United Methodist Church in Ballwin, Mo. In addition to the honorary degree presentation, Reverend Doctor John C. Dorhauer, general minister and president of the United Church of Christ, will deliver the ceremony's commencement address.
About Eden Theological Seminary
Founded in 1850, Eden Theological Seminary has been educating women and men to become community leaders for more than 160 years, primarily through ordained Christian ministry. Eden offers a variety of professional and graduate degree programs including: Master of Divinity, Master of Arts in Professional Studies, Master of Theological Studies, and Doctor of Ministry, among others. As one of the six seminaries of the United Church of Christ, Eden is a welcoming, inclusive and ecumenically diverse community whose mission is to strengthen the life of the church by educating its students for ministry, enlivening critical reflection on faith, and supporting bold Christian discipleship. Eden Theological Seminary is accredited by the Association of Theological Schools and the Higher Learning Commission.