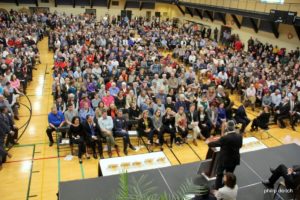 About 1,500 people gathered in the gym of the Staenberg Family Center in Creve Coeur to denounce violent acts of hate on Sunday, Oct. 28, 2018, at an interfaith vigil at the Jewish Community Center. The event followed Saturday's deadly shooting that killed 11 people at a Pennsylvania synagogue. Speakers from area Muslim, and Christian congregations, including Eden Seminary, joined Jewish leaders to liken the acts committed against Jews at Tree of Life Synagogue in Pittsburgh to other recent attacks on groups singled out for their faith, race, ethnicity, country of origin or political ideology.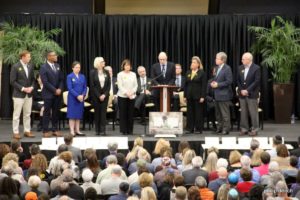 Because Eden Seminary plays an active role in the interfaith community in St. Louis, President David Greenhaw, as well as Eden alumni were included in the event. The speakers included Dr. Andrew Rehfeld who is the president and chief executive officer of Jewish Federation of St. Louis, U.S. Senator Roy Blunt, President Greenhaw and other religious leaders and politicians.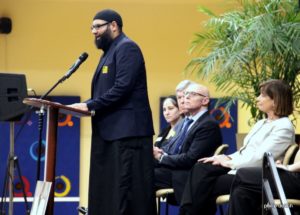 In addition to the vigil, the Interfaith Partnership of Greater St. Louis issued the following statement on Sunday, Oct. 28, 2018. The Interfaith Partnership (IP) of Greater St. Louis and the 30 communities of religion and conscience we represent mourn the loss of life at the Tree of Life Congregation Synagogue on October 27, 2018. Those of us who pray, pray for the victims and their families, and offer our prayers of healing for the entire community wounded by this violence. Those of us who do not pray dedicate ourselves to work tirelessly to create a world in which attacks such as this never occur. Together we condemn this attack, like far too many other such attacks, made on our Jewish sisters, brothers, and friends. As a community of many faiths and none we continue to pray and will continue to work for the day when all people can live in peace and safety.
Interfaith Partnership of Greater St. Louis works with congregations and faith communities to promote peace, understanding and respect among people of all faiths and within the greater Saint Louis metro area. Eden Seminary is an active member of the IP and President Greenhaw is a member of the board.
Excerpts from the St. Louis Post-Dispatch
Photos by Christian Gooden of the St. Louis Post-Dispatch