After nearly a century, German returned to the halls of Eden Theological Seminary last August with the arrival of Dr. Gabriele Metzner, a noted scholar from Germany's Evangelisches Predigerseminar Lutherstadt Wittenberg. As Metzner taught in the classroom, sang in the choir and broke bread with students and faculty, she reconnected the Eden family with its German roots.
Metzner came to teach an Intensive Focused Learning (IFL) class titled, "Pastoral Identity and Christian Education – a German Perspective." She made the most of those three months and her Eden experience.
Her overall impression?
"Eden is more oriented to contextual education, with more diversity of student backgrounds, ages and denominations," Metzner summarizes. "In Germany, it is more academic, more philosophical, more historical. All students come from four regional churches."
And her students'?
"Dr. Metzner has a great curiosity about learning new things and she wanted to know as much about us as we wanted to know about her," shares Antona Brent Smith, a third-year Eden student who feels visiting professors such as Metzner are invaluable to her Eden experience. "She connected with students not only by teaching, but by sitting down and learning about our lives. She was very intentional about it."
Contextual Education Makes Eden Unique
The single biggest difference Metzner observed is that Eden integrates inside-the-classroom academic education and outside-the-classroom field experience, what Eden calls "contextual education," into a single experience over three years. In Germany, the two are separated into unique phases, requiring seven to ten years to become an ordained pastor.
"In the Wittenberg seminary, the education takes place in two parts," Metzner explains. "Theology studies at university for at least five years. This is followed by a two-and-a-half year internship in a congregation supervised by an experienced pastor, during which the interns visit Wittenberg nine times for pastoral training.
"Eden's system of bringing together both parts of education was very interesting for me," Metzner shares. "Eden showed me how to bring together academic studies with the contextual education in a parish and in the community."
Because their theological and contextual experiences are inextricably intertwined, Metzner observed that Eden students more frequently apply theological concepts to concrete examples rather than theoretical contemplation. And because Eden students are embedded in the community, the concrete takes on a greater mind space for the student. Metzner was impressed with how this is brought to life in Eden classes on social ethics, black theology and constructive theology compared to "systematic" theology common of seminary programs.
Diversity Enri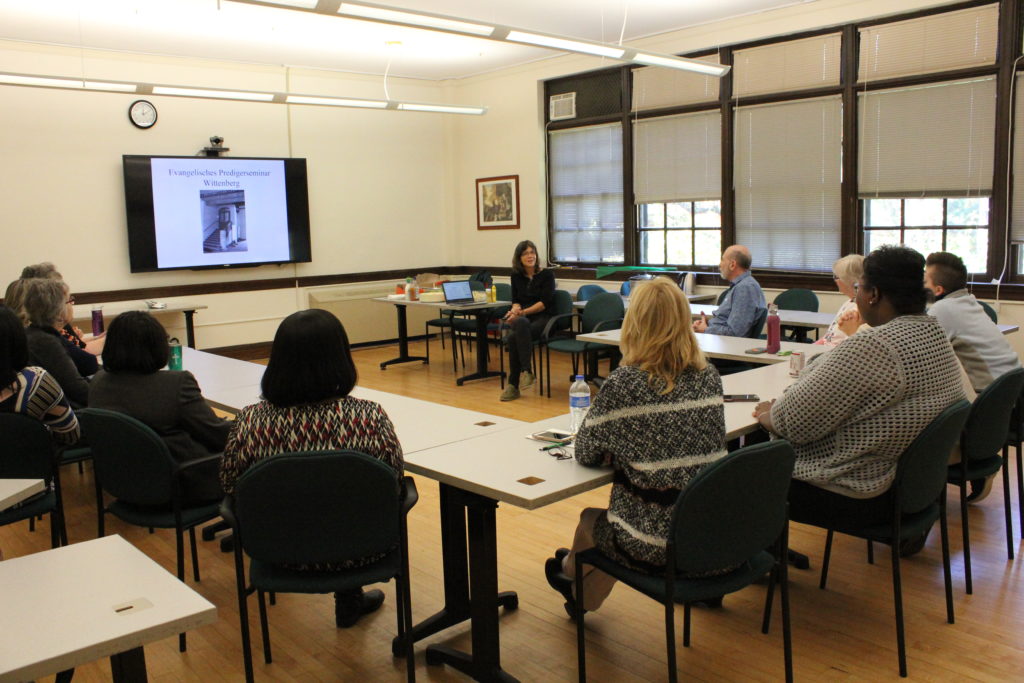 ches the Eden Experience
At Evangelisches Predigerseminar Lutherstadt Wittenberg, seminary students are primarily younger, traditional students coming from four regional churches with the specific intent of becoming pastors. Metzner shares she was surprised at the diversity of Eden students across different backgrounds, denominations, ages and goals. She found it interesting to hear so many different perspectives on theological topics.
"I remember the first Reformation session with Adam Ployd when he asked, 'What is faith? What is Grace? What is Scripture? The word? Baptism? The Church?'" Metzner recalls. "The answers were so different, every student with his or her own biography, their own ways of faith and of life so different from one another."
Metzner was also intrigued by Eden's students who do not seek to become pastors or who are studying non-degree classes, such as the NEXT Steps program for people of faith who are at least 55 years old and looking to transition or combine professional experiences and skills to benefit the world through causes of personal importance. There are no non-degree programs at Evangelisches Predigerseminar Lutherstadt Wittenberg and students attend with the express purpose of congregational ministry rather than alternative paths, such as the non-profit or community leadership goals of many Eden students.
"One thing you have here at Eden Seminary is the opportunity to bring new ideas to the education," she says. "That's important to me."
The Spirit of Eden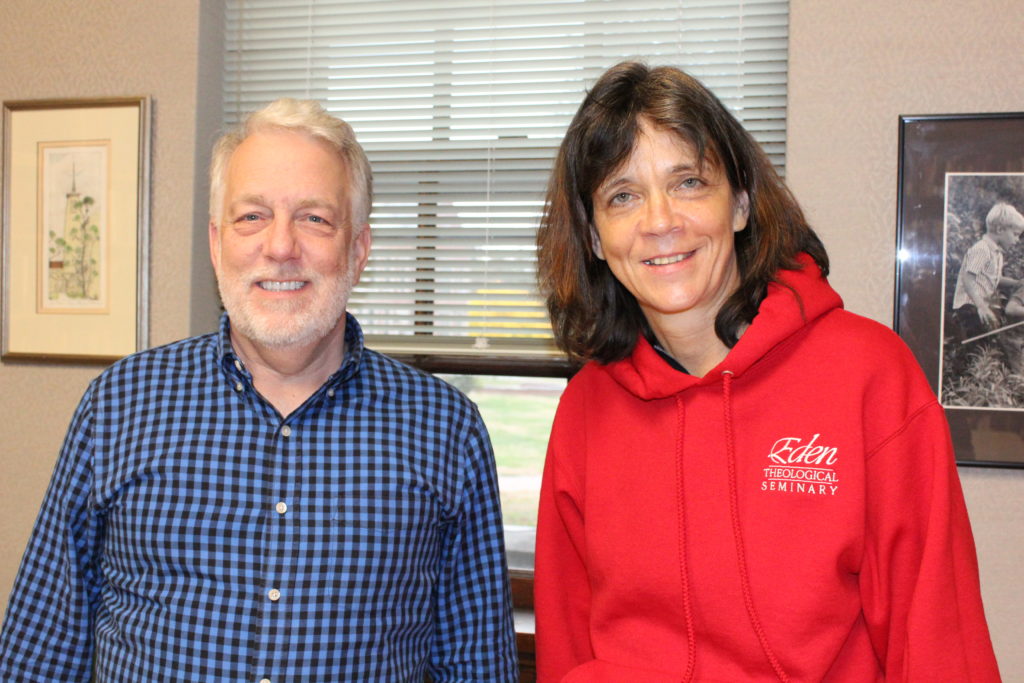 When asked what of Eden she'll carry back with her to Germany, she replied with the words of former Eden professor of theology and preeminent American expert of Old Testament theology, Walter Brueggemann.
"Walter Brueggemann writes in his book that Eden Seminary is not a place; it is a spirit," Metzner concludes. "I felt it too during my time in Eden."
While she arrived at Eden a stranger, Metzner now carries home the Eden spirit within her, making her forever a part of the Eden family.