A big thank you to all congregations who participated in UCC's Seminary Sunday.  And more to come in following weeks. Below are a few stories from Eden students and staff who participated in their churches on February 23rd.
My extended mission moment was at St. Paul UCC in St. Louis. I simply asked what does Tom Ressler (the pastor at St. Paul) and Matt Hellis, Stephen Nietzsche (Eden Students), Lorin Cope (Eden Staff), the St. Louis Association Prayer Calendar, the message on the back of the bulletin and the bulletin insert all have in common? The congregation then responded with, "Eden Seminary" in joyous response. Then we read the responsive prayer from the bulletin insert.

With a church like St. Paul – having so many Eden connections – in some ways every Sunday is Seminary Sunday.

-Lorin Cope
My two congregations, Grace UCC and Mount Tabor UCC, have welcomed international students of Eden Seminary for several years now on Seminary Sunday, and both support Eden Seminary financially. We love connecting to the wider Church through their witness of life and ministry in their contexts. Rev. Edith was embraced warmly at Grace UCC, and Rev. Michael at Mount Tabor UCC. Edith connected with the people as she shared her story of being a woman in ministry in Kenya and being the mother of four children. Michael, too, lifted up his wife and four adult children, then shared his story of ministry in Tanzania.

After worship at Mount Tabor we all sat down to Mardi Gras brunch of pancakes, sausage and bacon. The youngest worshiper present that morning told me how she liked an African story Michael had shared in his message about finishing well. The story told of an unhappy worker who filled his boss's bags with hay instead of grain in an effort to "get back" at the boss. In the end, the boss awarded the workers the bags they had filled that day. The worker did not end up finishing well!

Thanks to Jill Schantz and Eden Seminary for building these connections around the globe and here locally in St. Louis. These two small congregations are glad to participate in the theological education through Eden Seminary which enriches the Church Universal. Grace, peace, and a splash of joy~

–Rev. Dr. Carole R. Barner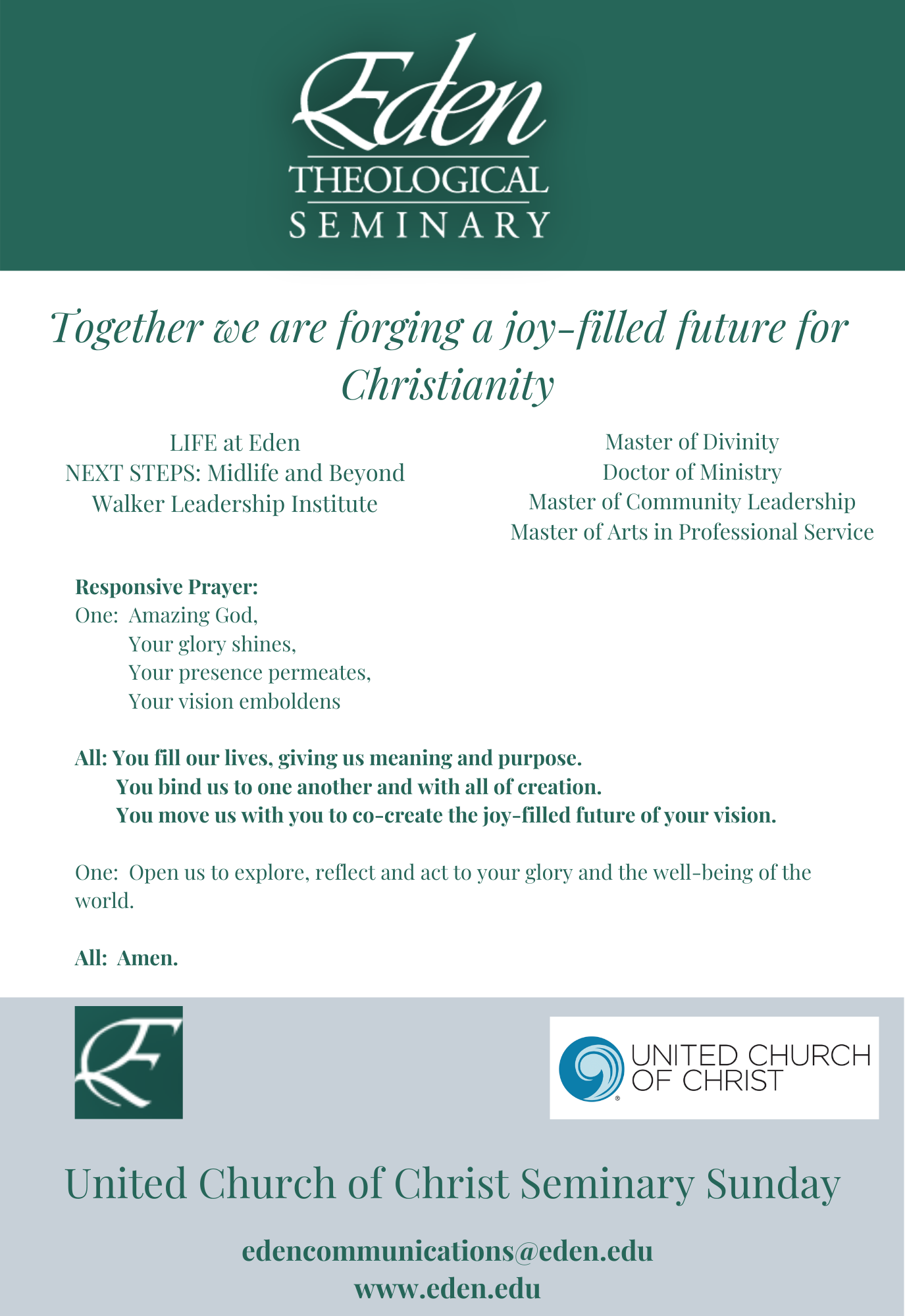 The responsive prayer that Eden Seminary shared as a resource for churches during this event.