Our Faculty
Our faculty strongly believe in practicing what they preach. As educators, they are dedicated to scholarship, publishing in their disciplines, and cultivating a lifelong passion for learning and understanding that they also encourage in their students. As community leaders, they set an example through active participation in their own churches, serving others, and fighting for the greater good. And you can always find them fostering an ongoing interfaith dialogue.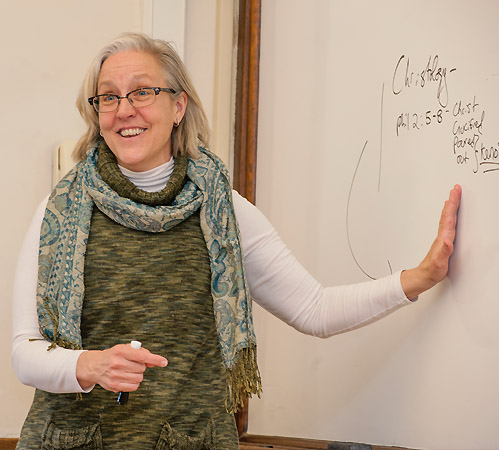 We're All Family
Eden's faculty is as diverse as our twenty-first-century world. There is no party line at Eden—we believe all peoples and faiths are like cousins, and as President David Greenhaw says, "Families don't always agree, but they are bound together."
Wherever our students go, our faculty is right alongside them, whether it's pushing them to think differently in the classroom, playing a game of softball, sharing a meal after a lecture, or protesting in the streets against injustice. You're not just a number at Eden—you're family.
From Our Students
Seeing our students flourish is one of our greatest joys as educators. Here's what some current and former Eden students have to say about our faculty.
"All the faculty treated us from day one as colleagues and partners in ministry. This means everything to me and affirmed my calling."
—Paul Koch, alum
"The thing I appreciate most about the faculty is their transparency, their accessibility, and at times their vulnerability. The other thing I have come to appreciate more and more is their scholarship and their ability to push us, even if we don't want to be pushed past our comfort zone."
—Antona Brent Smith, student
"I appreciate Eden's faculty for respectfully pushing and challenging me to articulate my faith and beliefs. It was a great way to acknowledge [that] my personal embedded theology can often place emphasis on things not necessarily Biblical."
—Bryant Nelson, student
Admissions Staff
Dean's Office Staff
Denise Stauffer
Director of Academic Programs, Secretary to Board of Trustees
Finance Office Staff
Institutional Advancement Staff
Lorin Cope
Director of Advancement for UCC Church Giving
Walker Leadership Institute Staff
Our Board of Trustees
Rev. Susan Artt
Denver, CO
Ms. Karen Branding
St. Louis, MO
Rev. Dr. Willliam G. Chrystal
Charlotte Court House, VA
Rev. Karla J. Cooper
Lincoln, NE
Ms. Merry Dahms
St. Louis, MO
Dr. Jane Zimmer Daniels
Kaiser, MO
Mr. Michael Downs
New York, NY
Rev. Dr. Jo Hudson
Dallas, TX
Mr. Ward Klein
St. Louis, MO
Mr. David Luckes
St. Louis, MO
Mr. Timothy Luehrman
Belmont, MA
Rev. Nelson Pierce Jr.
Cincinnati, OH
Mr. Larry D. Richardson
St. Louis, MO
Ms. Susan Nell Rowe
St. Louis, MO
Mr. David Sauerhoff
St. Louis, MO
Mr. Mark Schafale
Beaver Falls, PA
Ms. Darlene Sowell
St. Louis, MO
Dr. Susan S. Stepleton
Webster Groves, MO
Mr. Noah Jensen Tabor
Des Moines, IA
Dr. Thomas K. Tiemann
Elon, NC
Dr. Carol B. Walker
St. Louis, MO
Rev. Andrew Warner
Milwaukee, WI
Rev. Dr. Suzanne Webb
St. Louis, MO
Rev. Dr. Stephanie Weiner
Evansville, IL
Rev. Dr. Jesse Williams Jr.
New York, NY
Rev. Anne Asper Wilson
St. Louis, MO