Eden is glad to welcome Dana McNamara, as the Interim Director of Admissions. 
Please share this with others you know who have an interest in theological education.
Contact Dana at [email protected]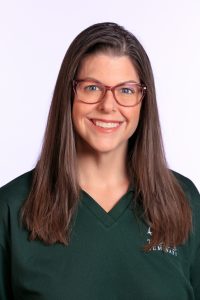 As a lifelong member of the United Church of Christ Dana grew up attending worship and church camps in Colorado where she heard her call to ministry. Dana completed her Bachelor of Science in Organizational Management and Christian Leadership from Colorado Christian University in 2012 and earned her Master of Divinity from Eden Theological Seminary in 2016.
Dana comes to this position with eight years of Seminary admissions experience. As an Eden alum she can testify firsthand to the inclusiveness and growing accessibility of Eden's programs. As the Interim Director, she hopes to engage students who are feeling God's call on their life to expand their theological training, leadership, and knowledge of the Progressive Christian Movement.
Since she's been in Missouri, Dana met and married her husband, Ryan. Dana and Ryan have a gaggle of dogs and cats in their household and enjoy taking the dogs, Mars and iO hiking as often as possible.