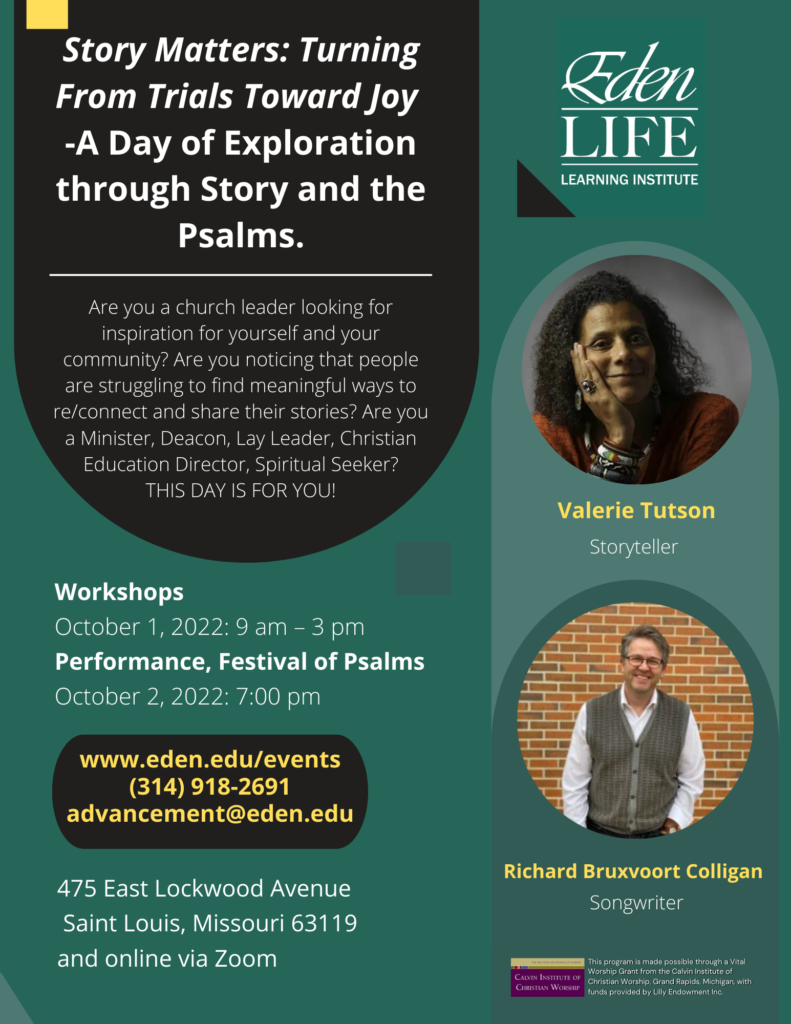 Dates:
October 1, 2022 @9 am – 3 pm- Workshops
October 2, 2022 @7:00 pm- Performance, Festival of Psalms (Great for All Ages)
About the Instructors: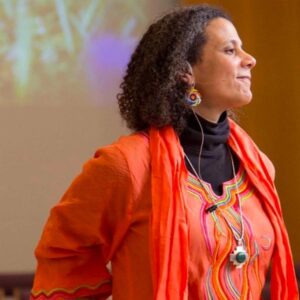 Valerie Tutson, a life-long member of the UCC has been telling stories around the world since 1991. Her repertoire includes tales from around the world with an emphasis on African and African American traditions and history. She is also well-known for her re-telling of age old Bible stories and is sought after as both a performer and workshop leader.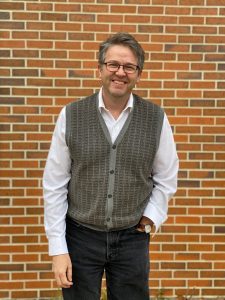 Richard Bruxvoort Colligan desires adventurous and imaginative music for the church. As a full-time composer and musician, he serves across denominations teaching about music and spiritual formation. Known for hymn forms, simple chant and pop-rock arrangements, he has several albums of original worship music. Richard is currently immersed in a long-term study of the Psalms. He is the owner of Worldmaking.net, and his songs have been published by the ELCA, UMC, UCC and PCUSA
Course Description:
There is no doubt the world has been in a season of deep pain, grief, loss and trauma. We have been shaken to the core by the global COVID pandemic and re-awakened to the calls for racial justice and the Movement for Black Lives. Everyday we are hearing the news of wars in the world.
It can seem overwhelming. We may feel at a loss.
Especially as the world is trying to "return to normal."
How do we return to "what was", without telling the story of where we've been?
We can't.
For as long as people have lived, they have used story and song to make meaning of their experiences: who they are, whose they are, what has happened to them and why that matters.
How does this moment NOW help us reflect on THEN, so we can prepare for WHAT's NEXT?
In this day long exploration, these dynamic workshop leaders invite you to chart the Story Arc found in Biblical texts and your own lives.
Join Richard Bruxvoort Colligan in an examination of the Psalms and how they tell stories that chart the psalmists' journey from complaint, to hope, to gratitude.
Valerie will lead us through a process of re/membering our own stories, and finding new connections with Biblical tales.
This is a chance for our church leaders to reconnect with themselves, their stories and Biblical text in fresh new ways.
Not only will you be re-freshed, you will also come away with tools/ideas/techniques you can use with your community to help us all Turn Toward Joy