From child psychiatry to the church: Inside Wickberg's leap of faith
From the SentinelSource.com in Keene, NH
She has been in her cozy, book-filled office at Westmoreland's United Church of Christ since July 1, but she spent most of her professional life in medicine — first as a nurse, then as a child psychiatrist.
Growing up in central Ohio when she did, women (who, she notes, would've been called "girls" at the time) were expected to go into nursing or teaching if they pursued higher education.
She remembers talking to the pastor of her Lutheran church, saying she knew "deep down" that she wanted to be a pastor when she grew up, and being dismissed because of her gender.
"I got a proverbial, not literal, pat on the head. 'That's nice, Lynn, but you're a girl.'" But things "were changing along the way," she notes, with a smile.
Initially, Wickberg went to school for music, but transferred to nursing when she realized she wasn't going to be a professional musician and that she didn't want to teach music.
After graduating from Central Ohio Technical College, she landed in New England, where she was working when a friend suggested she join her on an eight-week travel-study seminar in Europe.
"I thought, well, if I work overtime, I could," Wickberg recalls. And it was a good thing she did. It was on this trip that she met her future husband, Robert Wickberg.
After the seminar ended, "he decided to keep the connection," she says. The two were engaged and then married.
Her husband is a native Vermonter, and they decided to move back to his home state to start their family. Although Wickberg describes herself as a "transplant" to the region, it's home now.
For many years, Wickberg worked as a nurse at Rockingham Memorial Hospital in Bellows Falls, which has since been taken over by Springfield Hospital. But she says she was still "looking for the broader picture — to know more, do more."
So, despite having two young children — Timothy and Laurel — she decided to go to medical school to become a physician in a family practice.
"I went to the University of Vermont — or, I like to say, we went as a family. We had an apartment in what they used to call married-student housing," Wickberg remembers, with a laugh.
Along the way, though, her path changed again. She opted to become a child psychiatrist, rather than a traditional doctor.
Part of the appeal of psychiatry, Wickberg explains, was seeing the person as a "whole being" in the context of family, friends and community and bringing an awareness of how "things change as we develop and grow, through different ages and stages, both as individuals and then as collectives — family units, or communities, or, where I am now, it's churches."
After graduating from medical school and completing residency and fellowship training at Dartmouth-Hitchcock Medical Center in Lebanon, Wickberg was employed by Dartmouth Medical School as a clinical associate and instructor in psychiatry, with assignment as a consulting child and adolescent psychiatrist at Monadnock Family Services.
She felt she was doing good work, but still felt unsettled.
It wasn't until her two children left for college that she went through the Vermont Academy of Spiritual Training, a program through the Vermont conference of the United Church of Christ that aims to provide further education to laypeople. At that point, she had begun leading Sunday service at Christ's Church in Saxtons River once in a while when her pastor was away.
She carpooled to class with a friend one Saturday every month for three years, and they talked about the coursework, which covered a wide range of topics, including scripture, theology and worship traditions.
"The discussions we had coming and going, plus the coursework, just really fed my being, fed my soul."
This was all part of a growing sense she had of being called to ministry, until in 2012, when she left her home in Westminster, Vt., to go to Eden Theological Seminary in St. Louis.
"All I knew at first was I was going to seminary, and I wasn't sure what was going to come out the other side. As time went on, that became clearer — it was to be a pastor, a parish minister, and here I am."
Which is not to say there weren't challenges along the way.
Wickberg received mixed responses when people found out she was going to seminary. Some thought it was cool; others were confused.
Either way, she says, she made the right choice.
"Whatever you're doing, that's part of being present and caring for ourselves in the world and those close to us and in the created order. … (The decision is) something that wasn't 100 percent just logic. And it was right."
But she adds that simply feeling called to ministry isn't enough.
"Yes, there's that personal, 'Yes, it's me and God, and this is what I should do.' Yes, that's part of it, but that's not the only part," she says. There's also rigorous work before becoming a licensed minister.
The three years at the seminary were intense, much like medical school, Wickberg notes, but the learning community was wonderful.
She put in many hours of work in different settings before she could be ordained by the Ecclesiastical Council. First, she worked as a student pastor at a large church outside St. Louis, then in chaplaincy training at Dartmouth-Hitchcock Medical Center in Lebanon, and then as an interim pastor at United Church of Strafford, Vt.
Learning is not just about the books in the classroom, she emphasizes. In the ministry, "you learn by doing, as you do in medicine, and teaching and so many things."
Each setting contrasts in some way with the Westmoreland United Church, but she found there are commonalities between different people's lives and needs.
Now, most of her week is spent preparing sermons for Sunday services. She spends time with the background readings, asking, "What's being said here? How does this apply to us, this wisdom and history?"
Then she ties whatever she sees as the overarching theme for the week into the service's hymns and prayers.
One afternoon per week, she leaves her office door open for anyone who might like to talk, and sometimes, she visits hospitals or nursing homes. But she says all members of the church look out for each other, whether someone needs help painting a house or just a visit from a friend.
"This church is very much a work of the people," Wickberg says. And everyone has something to offer. "For our community, especially, but in widening circles of the world, it is that knowing who we are, whose we are — we are God's children, we're the followers of the way of Jesus in this world."
But being part of a community doesn't mean being cloistered, she stresses.
"God's justice is that all have what they need: shelter, food, potable water, meaning in their lives, safety — and that's a lot easier said than done." For this to happen, Wickberg explains, people must want not only to feed the hungry but to know the hungry.
"Social and political discourse in our country and in our world … is prone toward exclusion and hate." But this isn't new, she notes; it's been happening for millennia.
That's where the hard work of love comes in, she says — the kind of love that allows us to shape our words and actions to not breed further hate, without backing away from the truth.
Wickberg sees the church as a place where people can find support to strengthen and sustain their desire to do good in the world.
Jeanie Sy, who was chairwoman of the search committee for a new minister, says they were looking for someone who would nurture the congregation while increasing its community involvement and reinvigorating their educational programs.
Wickberg has helped their vision become a reality, Sy says. "She brought sunshine to the congregation."
Sy emphasizes Wickberg's creativity and musicality, and her ability to listen and engage all members of the congregation, regardless of their age.
"She includes a message for the children each Sunday, sometimes through reading or telling a story, sometimes by asking the children to help in the service. … Pastor Lynn is very creative and brings the weekly message to all of us in ways that we can not only understand but also live out."
Sy admires the life path Wickberg has chosen. But Wickberg says it's not really about her; she's just the pastor.
"It's really about the church who's been here before I was here and will be after I am here. … We're journeying along and trying to live out in knowing that we're doing it as God's children, and God is merciful and caring and constant," she says. "We don't do it all in our own beings and with our own strengths. That's what we're rooted in."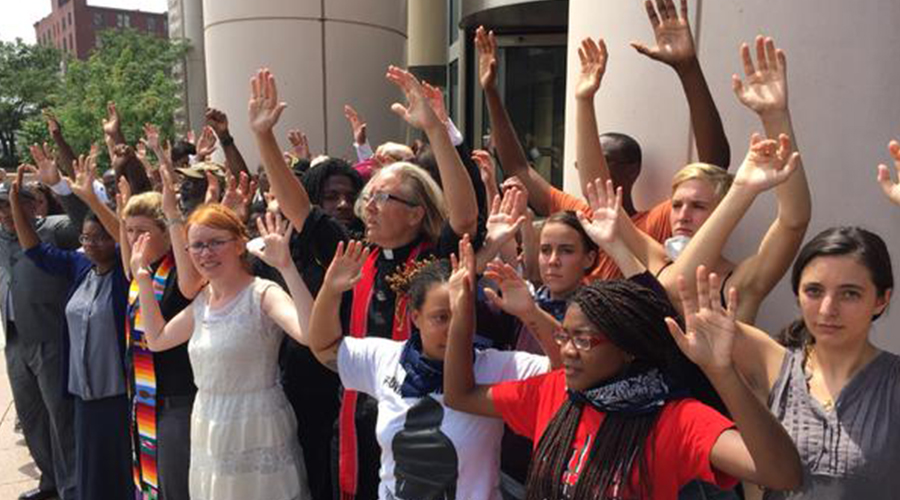 On August 9, 2014, Ferguson, Missouri, a suburb of St. Louis, was the site of what has become a modern day "shot heard round the world." On that day Micheal Brown, an unarmed black teenager, was shot and killed by a local police office. And on that day, the #BlackLivesMatter movement took hold, one of the longest running acts of civil disobedience in our nation's history. Since day one, Eden alumni, students, and faculty members have played significant roles working in and alongside the movement, not only as protesters, but as advocates for real and tangible change. Their passionate work testifies to the quality of students and graduates Eden cultivates; many say Eden dramatically helped shape their theological perspectives on race and human dignity.
While hundreds of Eden alumni have visited Ferguson to protest and advocate for an end to racial injustice, participated in local protests in their own communities, or preached and advocated for racial equity, several Eden students and alumni names continue to appear among leaders in the ongoing movement. Here are just a few of their stories.
Traci Blackmon's Journey
In 2009, alumna Rev. Traci Blackmon became the first female pastor of the 156-year-old Christ the King United Church of Christ in Florissant, Missouri. The position fit her strong call to Christian ministry, experience growing up in the AME church, as well as her years of studying Bible and Womanist Liberation Theology at Eden. It felt like a natural progression alongside her 30-year career as a nurse and Coordinator for health, mind, body and spirit for BJC HealthCare.
When Michael Brown Jr. was shot, less than 5 miles from Chris the King, Rev. Blackmon was one of the first pastors to respond, both by her presence in the street protests and by calling together neighborhood and state religious and community leaders for a peaceful and constructive response. She was soon recognized for her work when Missouri Governor Jay Nixon appointed her to the Ferguson Commission, a group of sixteen citizens asked to study the underlying conditions and make public policy recommendations to help the region progress after the death of Michael Brown, Jr.
"This is what I learned in Ferguson," Blackmon said in an interview with the United Church of Christ. "The church is not a static organization that is transported from place to place, but rather that church emerges to meet the present needs of the people."
In October of 2015, Blackmon was made executive minister of the UCC's Justice and Witness Ministries. And just four months later President Barrack Obama named her to his Advisory Council on Faith-Based and Neighborhood Partnerships.
Commuting between UCC Headquarters in Cleveland, meeting with the advisory council in Washington D.C., and leading her church in Florissant has kept her busy. She believes some progress has been made, though she also says there's still a lot of work left to do.
"We're still thinking of stadiums before we're thinking about schools," she said in an interview with the St. Louis Post-Dispatch. "We're still fighting over whether the minimum wage should be raised or not. We're still unfairly and unjustly targeting and criminalizing people of color. Those things have not changed."
Susan Sneed Helps Lead Police and Community Accountability
For 2007 alumna Rev. Susan Sneed, the protests in Ferguson that followed Michael Brown Jr.'s killing weren't something she watched on the news. She could smell the tear gas in her house.
"I live just a few blocks over from where Michael Brown was shot and killed," said Sneed. "I couldn't be a bystander."
Joining in the protests was a given for her, as a citizen, an ordained minster, and a community organizer with Metropolitan Congregations United.
Through her work, Sneed is currently collaborating with a taskforce to address police reform. "So many [faith-based] leaders care about the police and what they do, but they're also appalled by the police and what they do," she said. Her group is creating progress reports to measure if local police departments are meeting the progress goals they set for themselves.
Sneed is also helping church leaders monitor a community benefits agreement with the Metropolitan Sewer District. "It's important to work to ensure economic equity. The community is paying for it, and they should be the first on the list to be hired," said Sneed.
Sneed sees protest and organizing as not just an outreach ministry, but as the heart of the church itself. "You have to preach with your actions," she said."To be out in the streets, standing in solidarity with people, bringing the teachings of Christ out into the streets and putting them into motion is the best preaching any clergy can do."