Date/Time
Date(s) - 08/29/2023
5:30 pm - 7:00 pm
Join us on campus in the Wehrli Chapel of the Press Building if you are able! Online options are also available.
Opening Convocation for Eden Seminary's 2023-2024 academic year.
The community gathers for this celebration to mark the beginning of the new academic year.
Students – Faculty- Staff – Board of Trustees – Contextual Education Supervisors – Congregations – Alumni – Families – this celebration is for you!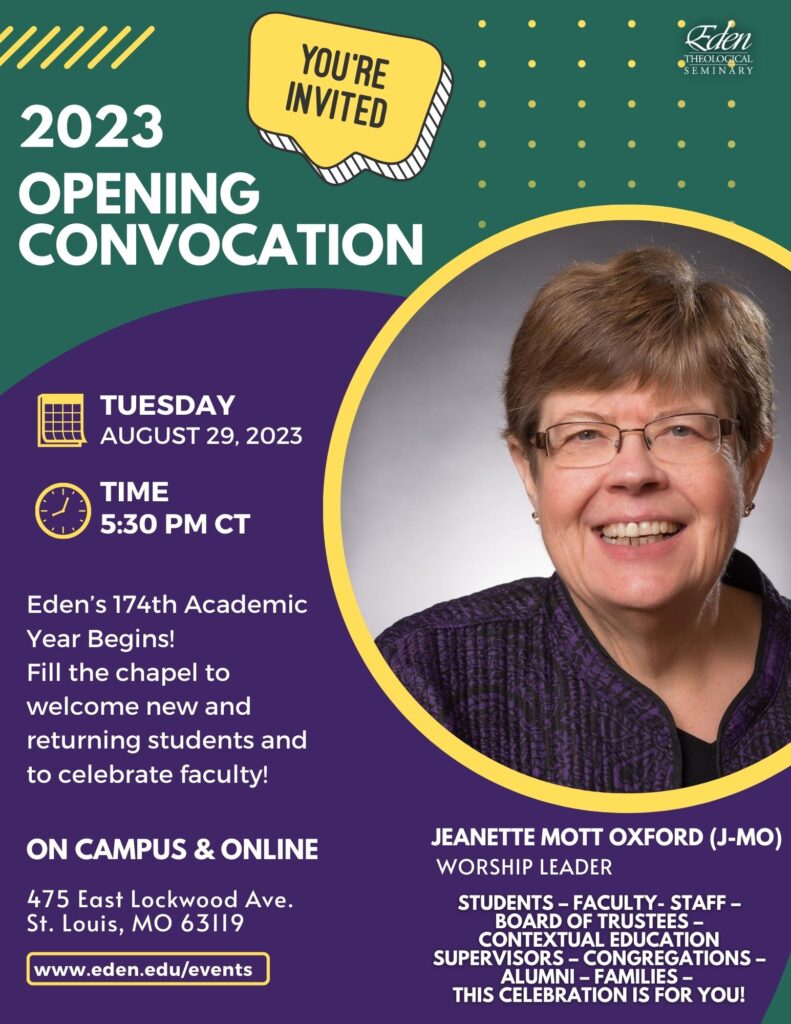 Worship Leader:
Jeanette Mott Oxford (J-MO), Public Policy Advocate & Organizer
Jeanette Mott Oxford (J-MO) has been an advocate, educator, writer, and organizer on issues of poverty, health, housing, racism, human rights, equality, and campaign finance reform in Illinois, Kansas, and Missouri since 1983. Ze is presently Public Policy and Advocacy Manager at Paraquad, the independent living center for the St. Louis region.
An agender individual, preferring the name J-MO (pronounced jay-mo) and the pronouns ze/zir/zirs, Oxford is married to the Rev. Dorothy M. Gannon, a hospice chaplain, who retired in September, 2022. The couple has lived in Benton Park since 1996 and are active in the ministries of Epiphany United Church of Christ in that neighborhood.
Oxford graduated with high honors from Southern Illinois University-Carbondale in 1986 with a B.A. in Religious Studies. Oxford earned a Master of Divinity degree from Eden Theological Seminary (1989) as well as being a Niebuhr scholarship recipient while there. Eden Theological Seminary also presented an honorary doctorate in humane letters to Oxford in 2010.
Oxford worked at Metropolitan Congregations United as Organizer and Lead Campaign Strategist from July 2021 to December 2022. While there, Oxford guided the Filters First Community Coalition in a campaign to secure passage of the Get the Lead Out of School Water Act. The bill did become law, and $27 million in initial funding was secured from the American Rescue Plan Act.
Join in to support your students and your Seminary!
Join via Facebook live at www.facebook.com/EdenTheologicalSeminary/