Date/Time
Date(s) - 04/23/2019 - 04/24/2019
All Day
So many beautiful buildings, with so many memories, so important to the congregations that use them, are also increasingly a financial burden, larger than needed, a challenge to the future of the congregations that love them.  This two-day event will explore the blessings of congregational buildings and the burdens congregations face because of them.  While there are no easy answers to the challenges buildings pose for many congregations, there are ways to begin exploring what can and should be done.
This event is open to anyone interested in the topic of what to do with our church buildings when a need for transition has been identified.
Program Speakers include:
Rev. Dr. David Greenhaw

Dr. Greenhaw is the President of Eden Theological Seminary.
Rev. Dr. Patrick G. Duggan

Dr. Duggan is the Executive Director of the United Church of Christ Church Building & Loan Fund in Cleveland, Ohio.
Dr. Robert Simon

Co-author of Retired, Rehabbed, Reborn; The Adaptive Reuse of America's Derelict Religious Buildings and Schools. Dr. Simons is a Professor and former Director of the Master of Urban Planning, Design and Development program at the Levin College of Urban Affairs at Cleveland State University in Cleveland, Ohio.
April 24 Preacher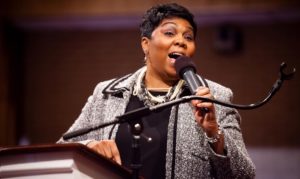 Rev. Dr. Traci D. Blackmon
Eden Master of Divinity, Class of 2009
Eden Honorary Doctor of Divinity, Class of 2015
Dr. Blackmon is the senior pastor of Christ The King UCC, in Florissant, Mo. and executive minister of UCC Justice and Witness Ministries and Wider Church Ministries.
Event Schedule To Come
Location
Eden Theological Seminary
Wehrli Chapel in Press Hall
475 East Lockwood Ave.
Webster Groves, Missouri 63119
Click here for directions to Press Hall
Registration Form