Date/Time
Date(s) - 10/25/2020
7:00 pm - 8:15 pm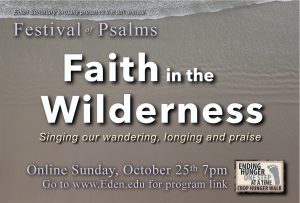 Eden Seminary Hosts Musical Event for "Faith in the Wilderness"
On Sunday, October 25th, Eden Theological Seminary will host its annual "Festival of Psalms" concert at 7pm on Facebook Live. All are welcome.
Register below to receive a direct link to connect with the event.
The unique musical event, in its ninth year running, has a devoted following in the wider St. Louis community. This year the musical program will be online.
The theme this year is "Faith in the Wilderness," with music from the Biblical psalms in a variety of styles, including blues, choral, folk, gospel and hymns.
Featured musicians this year include several local church choirs, Eliza Lynn, Christopher Grundy, Jacob Nault, Rabbi Jim Goodman, Wendy Reynolds, Paul Vasile, The Many, Richard Bruxvoort Colligan and more.
The Festival of Psalms will again be held in conjunction with the St. Louis CROP Walk which combats poverty and hunger, locally and globally. For more information on the St. Louis CROP Hunger walk and/or to donate, visit https://www.crophungerwalk.org/saintlouismo/edenteamwww.crophungerwalk.org/saintlouismo
The concert is free and open to the public