Date/Time
Date(s) - 08/31/2021
5:30 pm - 7:00 pm
Opening Convocation for Eden Seminary's 2021-2022 academic year.
The community gathers for this celebration to mark the beginning of the new academic year.
Worship!
Welcome new students
Celebrate Faculty
Greet returning students, staff, faculty
Join with family, alumni, friends, and congregations around the country
Eden is overjoyed to welcome the Rev. Michelle Higgins as the preacher for this Opening Convocation.  Rev. Higgins is senior pastor of St. John's Church (The Beloved Community) UCC in St. Louis.  She has deep roots in the Pentecostal worship tradition and is the first woman to be settled as lead pastor and teacher in the congregation's 160 year history.  Michelle was a speaker as part of Eden's 2021 Spring Convocation last academic year.  In July 2021, Rev. Higgins was one of the preachers for the United Church of Christ's national General Synod.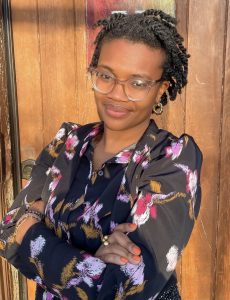 Students, faculty and staff can be in person (with COVID protocols) or online.
All are invited to participate via Zoom or Facebook Live.
An ice cream social will follow the service.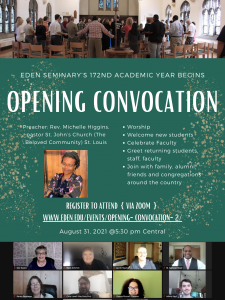 Oops! We could not locate your form.