Date/Time
Date(s) - 10/24/2018 - 10/26/2018
5:30 pm - 5:00 pm
You're invited to participate in Sharing the Song, a workshop for song leaders excited to nurture and sustain singing in their communities.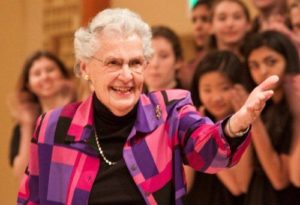 Experience three days of learning, reflection, and skill building with Alice Parker and Paul Vasile, and grow in your ability to inspire others to make beautiful music with their voices!
We welcome choral conductors, church musicians and community leaders passionate about sharing song with others.
Click here to learn more and to apply.
Event Location:
Eden Theological Seminary
Wehrli Chapel, Press Building
475 East Lockwood Avenue
St. Louis, MO 63119
Click here for directions to Eden Seminary
Contact [email protected] for more information.
Sharing the Song is generously supported by Melodious Accord, Music That Makes Community, Eden Theological Seminary, and The Hymn Society in the United States and Canada, as well as other corporate and private donors.