Though the Earth Should Change: Biodiversity Sacred Groves for Worship in the Era of Ecological Crisis
Design Competition Brief
Eden Theological Seminary
Sam Fox School of Design and Visual Arts, Washington University
Made possible through a grant from the Calvin Institute of Worship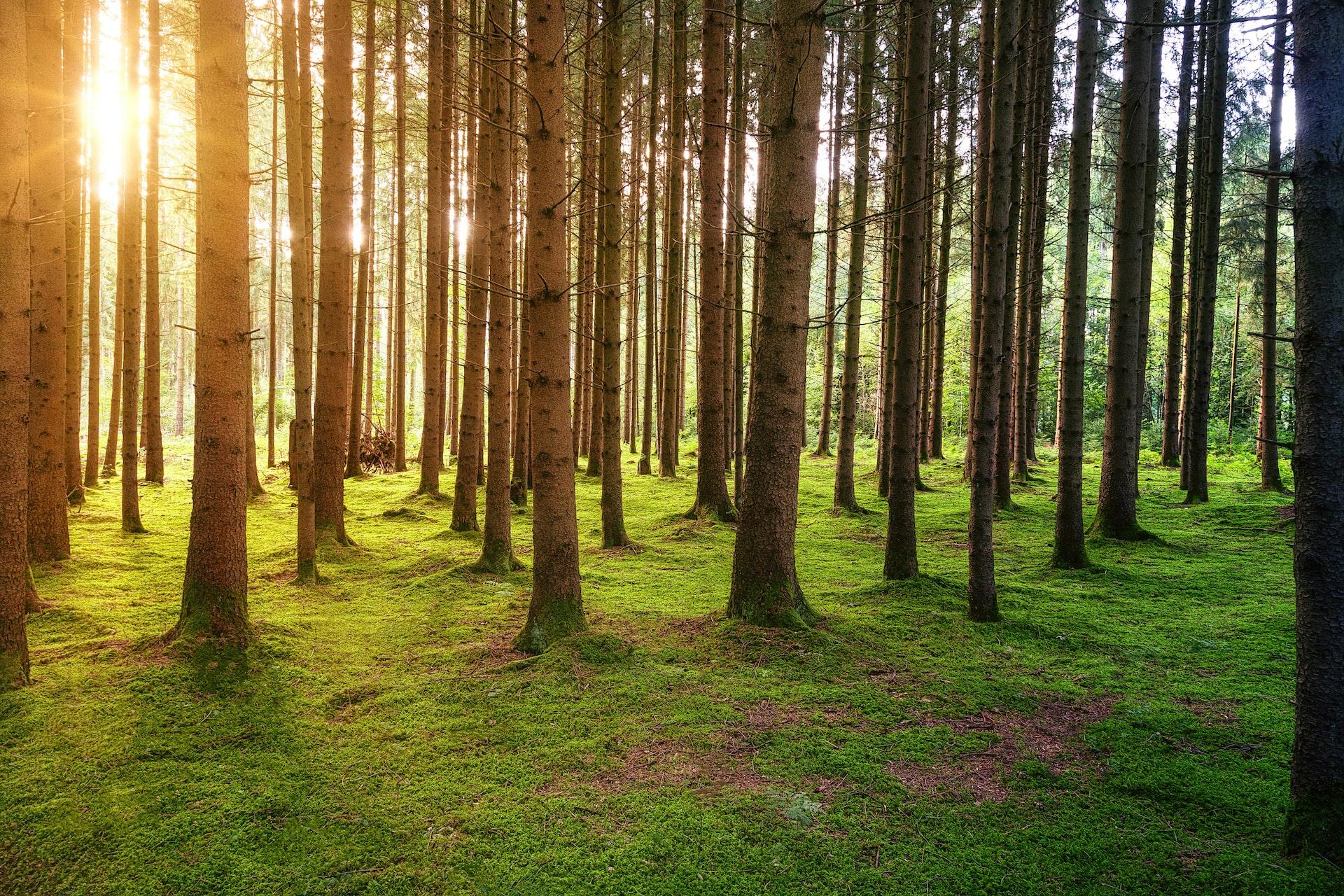 Table of Content
DESIGN

Program
Objectives
Budget
LOCATIONS

Competition Sites:

Former Playground: Eden Theological Seminary
Between Buildings: Eden Theological Seminary
Former Tennis Court: Eden Theological Seminar

Opening Event Site: Eden Theological Seminary
Workshop Sites: Eden/Sam Fox School of Design
Awards Ceremony Site: Sam Fox School of Design
ORGANIZATION

Eligibility
Deliverables
Evaluation Criteria
Jury
Organizers
Awards
Schedule
Rules / Guidelines / Environmental Considerations
Terms
Registration and Submissions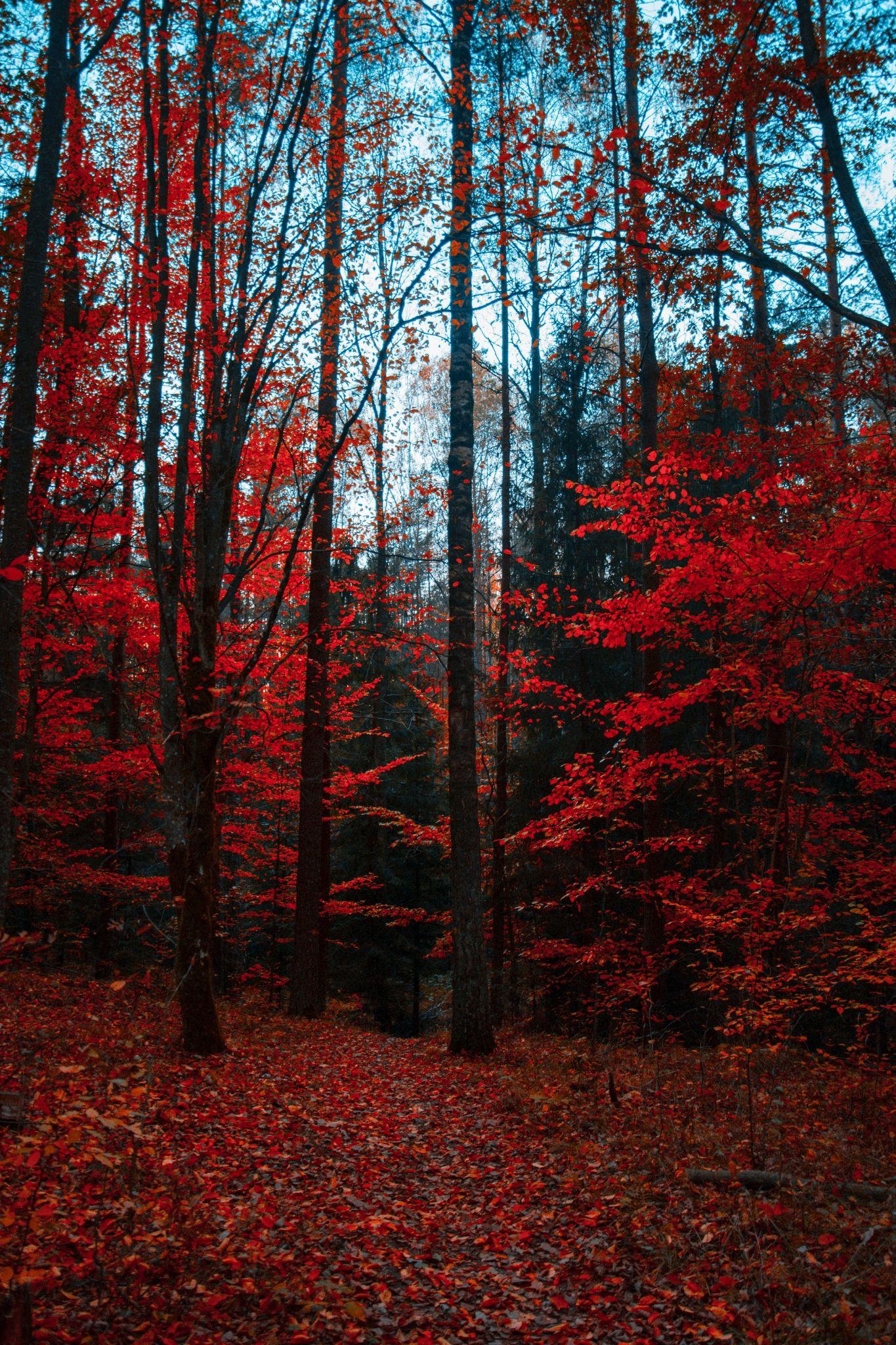 Introduction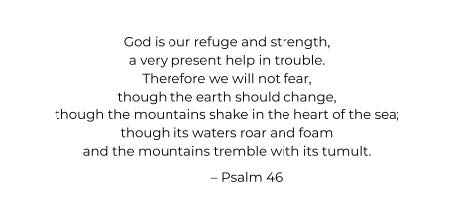 Overview
We have entered an era of climate catastrophe that will force major shifts in human cultures.
In the next 50 years, our planet will experience increasingly destructive climate disasters: loss of islands and coastal regions, mass climate migration, soaring extinction rates, perhaps even the collapse of power grids and governments, as well as increasingly catastrophic flooding, drought, fires, and storms. This is not just a possibility; it has already begun.
Worship spaces may not seem like the most urgent need in a time of global ecological crisis. Even so, people of faith are going to need ways to process and cope with the increasing disasters that are coming. No less important, Christians in the United States are an influential group and have the potential to slow or hasten the major changes in policy, technology, and culture that are needed to slow the pace of ecological destruction. Beyond just talking about the environment while they worship inside buildings, congregations need outdoor worship environments that can reconnect them with the ecosystems in which they live and shape them as agents of ecological justice.
Imagine a growing number of sacred groves emerging on local church properties across the United States.
Imagine that these groves share certain characteristics:
They provide an encounter with the natural world that inspires awe. Like a mountain top view or a beach sunrise, some places draw us beyond enjoyment of the outdoors and into a more numinous or transcendent experience. In Christian circles, we might use the language of the sacramentality of creation: the way in which the perceivable, natural world can be a
sign or trace of the divine, pointing beyond itself. First and foremost, something about these groves is inspiring, striking, and attractive, drawing us into a mind-and-heart-opening encounter with the local ecosystem rather than a built environment. They are not so much manicured gardens as they are micro-preserves, church forests.
They make it easier for faith communities to worship outdoors more often. These groves bear the marks of ritual space, worship space. They do not necessarily have 5 Christian symbols, but have features that set them apart as sacred ground. They are useful spaces for worshiping communities to gather. Just as importantly, they make it easier to be outside, providing shade or shelter, a cool breeze or a comfortable place to sit. With proper clothing, a faith community might worship here three or even four seasons of the year. They
are accessible and not too far from a restroom.
They provide an environment for ecological spiritual formation. In the groves, visitors can be shaped by their natural surroundings and by practices and cycles of worship that engage those surroundings: the paschal full moon, the patterns of sunrise, solstice, and equinox. They can help tend the grove (without turning it into a typical lawn or garden space) as part of their worship services, and be formed for the work of eco-justice. They can learn about local, indigenous plants and animals.
They are sanctuaries of biodiversity. The groves are tended and protected by local faith communities, or faith communities collaborating with conservation groups. Because they are understood as sacred ground, the groves are tended using organic, sustainable methods. Indigenous plants and animals are favored and find refuge there, sharing the groves with human visitors. Various means, such as the scattering of human ashes (a memorial garden) or conservation easements, are used to create a shared understanding of the groves as  sacred and thus protected.
They are healing spaces in an era of climate disaster. Something about these sacred groves invites us into what poet Wendell Berry calls "the peace of wild things" and helps us remember that the natural world around us isn't all threatening. When people are heartbroken by damage to their community, or frightened by the news of climate disasters, the groves provide a place to reconnect and be grounded.
Challenge
Eden Theological Seminary and Sam Fox School of Design invite students to design a sacred grove for congregational worship. Students are invited to design for one of three potential sites on Eden's campus. Projects may be guided by the following
questions:
Can built landscapes provide an encounter with the natural world experienced as sacred?
How might outdoor worship environments contribute to ecologically oriented spiritual formation for people who visit them?
What kind of spaces would be attractive and useful enough that they could draw congregations out of their buildings to worship outdoors more regularly
What kind of outdoor worship environments will:
● Provide healing spaces in the wake of ecological disasters?
● Serve as protected environments to preserve and increase biodiversity of native plants and animals?
What practices and relationships will be effective to preserve sacred groves as
sanctuaries of biodiversity in an increasingly secular society, and in a society that has not historically respected other sacred sites, especially those of native cultures?
How might we create spaces that help to encourage collaboration between faith communities and local environmental groups?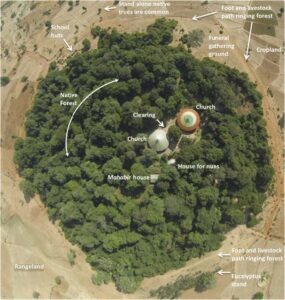 "Ethiopian Church Forests: A Hybrid Model of Protection." Human Ecology. 44 (2016)
Design
Program
REQUIRED PROGRAM ELEMENTS
A grove, glade, or mini-forest (e.g. Miyawaki method) that will serve as a communal worship space for 30-120 people and also help foster and preserve the biodiversity of local flora and fauna
Use of plants native to the region
Organic/sustainable methods, with an eye to the use of these methods as spiritual practices, as well as long-term sustainability
OPTIONAL PROGRAM ELEMENTS
A ritual boundary
Temporary or permanent seating
Temporary or permanent shade (tree or fabric canopy)
Storage for gardening tools/supplies
Accommodation for local fauna as well as flora
Liturgical elements (pulpit, font, communion table)
Features to teach visitors about local plants
Wheelchair and other accessibility
Objectives
Foster imagination and inspire congregations to begin adding outdoor worship spaces on church properties
Investigate strategies for combining the goals and needs of liturgical space and biodiversity sanctuary
Consider how natural environments can encourage earth-based worship practices among Christians
Propose actionable designs for the students and faculty of the seminary, as well as the United Church of Christ congregation that rents space on campus
Budget
While there is no specific budget for the designs, teams are encouraged to design with the resources of local congregations and environmental groups in mind.
Locations
Competition Sites
There are three options that teams may choose from for their designs.
Former Playground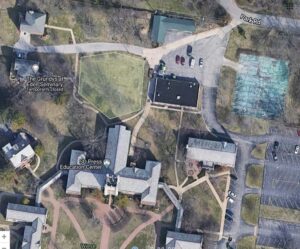 Between Buildings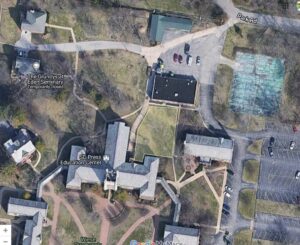 Former Tennis Court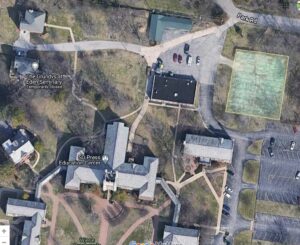 Organization
Eligibility
This competition is open to current degree students of Eden Theological Seminary and to graduate degree students of Washington University whose primary field of study is either landscape design, architecture, or environmental studies.
Deliverables
GROUND VIEW PERSPECTIVE
One (1) hand-constructed 36" x 24" perspectival drawing of your Sacred Grove from the ground view. This drawing aims to animate a single framed view from your graphic narrative. This will be constructed as a physical drawing and will engage a photograph as a drawing frame. The photo represents the existing site, and acts as a base onto which each team constructs a one-view of their Sacred Grove. This drawing is intended to convey the feeling of your design, not merely the look of the design. The drawing is also meant to support each team's graphic design narrative.
GRAPHIC NARRATIVE
One (1) hand-constructed, 36"x24" graphic story depicting (1) the eco-temporaries of your Sacred Grove across multiple seasons, and (2) each team's stewardship and maintenance designs. Stewardship, maintenance, and management may be incorporated into the design as spiritual practices or acts of communal worship. Similar to stone, wood, and soil, time is a material in your site. This drawing aims to clearly communicate how to take care of your Sacred Grove on a temporal scale and to spatialize those temporalities. If you can write it, you can draw it. This drawing should include specific human and non-human communities as part of the assembly of your Sacred Grove. Importantly, this graphic narrative visualizes what care looks like over time. It should include specific flora and fauna decisions, and these should be represented spatially. For example, the canopy and height of a full-growth sycamore, compared with a sycamore right out of the plant nursery.
VIDEO
A two-to-three minute video made and edited on a smart-phone, showing your team's design. (1) Each team's design will be sketched at scale in the field at Eden Seminary using strings, marking-flags, flagging-tape, 8'-painted sticks, and card-board cut-outs. This process will be repeated at Washington University in March. One team member will be asked to take the video, while they narrate and describe the design proposal. The other team members will move through the site, demonstrating intentionally selected movements, sounds (human? animal? chimes?), and directional or ritual gestures.
FIELD BOOK
Each team receives an 11"x 8.5" hardbound field-book and drawing instruments. Teams are to share this field book, using it to discuss, sketch, measure, and record their design conversations. Field books will be regarded as a reference of each team's design process, and will thus be more focused on supporting each team's process of developing their landscape design than on being self-explanatory for the competition jury.
TEXT
Each Sacred Grove team is asked to write (1) a 50-word, and (2) a 250-word description of their design proposal.
Evaluation Criteria
FUNCTIONALITY—Will the space designed be useful for regular worship in a variety of weather conditions? Will it endure as a sanctuary for biodiversity?
FORMATION—Does the environment provided by the design have the potential to contribute to a more ecological spiritual formation among participants? Will it encourage more ecologically-oriented spiritual practices? Do the drawings clearly communicate a year-round design strategy for stewardship and maintenance as an ecological and spiritual practice?
SUSTAINABILITY/CLIMATE IMPACT—Does the design give attention to the processes, practices, and structures needed to implement a sustainable space? Can this design scale across multiple church campuses for greater climate impact?
FEASIBILITY—Is the design realistic? Does it have the potential to be brought to production?
SUITABILITY—Does the design demonstrate a clear understanding and creative interpretation of the needs and objectives set forth in the brief?
AESTHETICS—Does the design have the capacity to inspire awe or point toward an experience of the sacred? Does it tend toward experience of the sacred through the natural world more than through the built environment? Are visitors likely to experience delight, healing, or serenity?
INNOVATION—Does the design stand out? Does it provide something creative? Does it stimulate imagination for new, more ecologically grounded modes of worship, both for Christian congregations and their collaborators?
INTEGRATION—Is the design sensitive to its surroundings and able to complement those surroundings?
Jury
Rev. Roderick Burton
Pastor, New Northside Missionary Baptist Church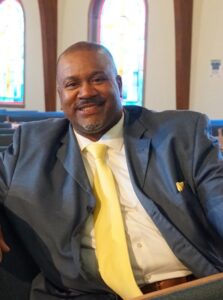 For the last 11 years Burton has served as the Interim Pastor and later Senior Pastor of the Historic New Northside Missionary Baptist Church. During his tenure he has worked for Environmental Justice with the Sierra Club, The Nature's Conservatory, Earth Justice, Green the Church and now serves on the boards of Missouri Coalition for the Environment, US Greenbuild Gateway Chapter, Oasis International, The Kaplan Field Holocaust Museum, and Gateway Human Trafficking. Burton is an Airport Chaplain and the President of St. Louis Airport Interfaith Chaplaincy. His interfaith work includes The Ecumenical Leadership Council of Missouri, The St. Louis Metropolitan Clergy Coalition, The Pastoral Fellowship of St. Louis, The Jennings Clergy Coalition, The Clergy Advisory Board to the St. Louis Health Department, The 27th Ward Clergy Partnership, The 24-1 Clergy Coalition, and the Interfaith Partnership of St. Louis.
Irene Compadre
Principal, Arbolope Studio
Lecturer, Sam Fox School of Design, Washington University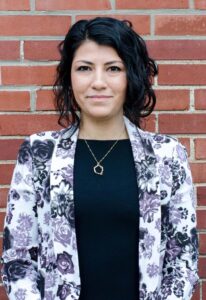 L. Irene Compadre, PLA is the Founding Principal & Design Director of Arbolope Studio, an award-winning Landscape Architecture, Urban Design and Public Art practice based in St. Louis, MO. An experimental firm that prioritizes high-quality design, ecological resilience, and social-equity. She has a background in musical composition, architecture, sculpture, and scenic art, which inspire her novel approach to the design of landscapes for the 21st century. Irene holds a MLA from Washington University in St. Louis where she now teaches in the Sam Fox School of Design & Visual Arts.
Dr. Jonathan Losos
Professor of Biology, Washington University
Director, Living Earth Collaborative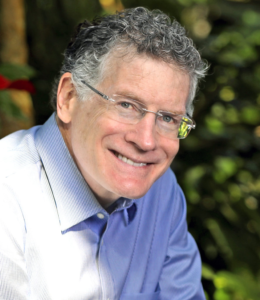 Jonathan Losos received his AB from Harvard University, followed by a PhD in Zoology from the University of California, Berkeley and postdoctoral studies at the University of California, Davis. He then taught at Washington University for 14 years, rising to the rank of professor and serving as the Director of the Tyson Research Center and the Environmental Studies Program. He thenwent to Harvard University for 12 years as a professor in the Department of Organismic and Evolutionary Biology and Curator in Herpetology at the Museum of Comparative Zoology, before returning to Washington University in 2018. Losos studies biological diversity—how it originates, what forces maintain it—focusing on lizards as a model study system. Professor Losos has served as Editor-in-Chief of The American Naturalist and President of the American Society of Naturalists.
Alexandra Mei
Associate at Merritt Chase
Lecturer, Sam Fox School of Design, Washington University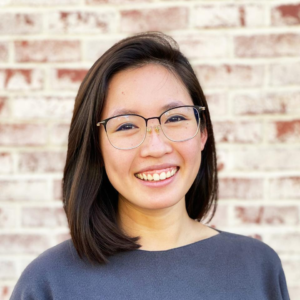 Alexandra Mei is a landscape architect and educator in design. Her work crosses practice, academia, and advocacy to push toward a more environmentally just and ecologically resilient public realm. As an associate with Merritt Chase, Mei has worked on projects ranging from park planning to site design. Mei graduated from the Harvard Graduate School of Design with a Master in Landscape Architecture and earned a Bachelor of Design in Architecture from Washington University in St. Louis. She has received multiple honors including the WxLA 2020 Scholar Nomination, the Harvard GSD Thesis Award, the Landscape Architecture Foundation's Olmsted Scholar Nomination, and the Charles Eliot Traveling Fellowship from the GSD.
Rev. Mary Nelson
Transitional Conference Minister,
Missouri/Mid-South Conference, United Church of Christ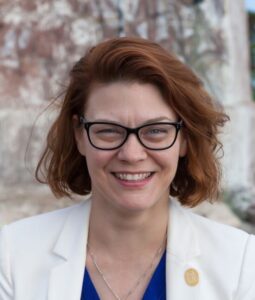 Rev. Mary W. Nelson is the Transitional Conference Minister of the Missouri Mid-South Conference of the United Church of Christ. She has served in various settings across the United Church of Christ, from outdoor ministry sites to local churches to Conference ministry to national setting task forces, across Iowa, Georgia, Vermont, Connecticut, and now in Missouri Mid-South. Mary earned her Bachelor of Arts at Grinnell College, and her Master of Divinity at the Candler School of Theology at Emory University. She splits her time between Holyoke, Massachusetts (where her partner, his kids, and her cat live full-time), and St. Louis (where she keeps a second, much quieter home).
Competition Organizers
Eric Ellingsen
Associate Professor, Sam Fox School of Design and Visual Arts, Washington University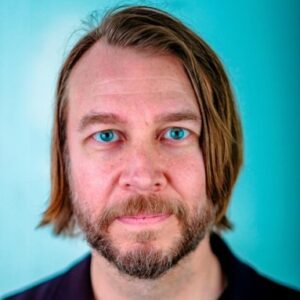 Christopher Grundy
Professor of Preaching and Worship Academic Dean, Associate Dean for the Chapel, Eden Theological Seminary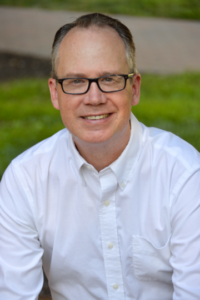 Matthew Bernstine
Associate Director, Office for Socially Engaged Practice; Lecturer Sam Fox School of Design and Visual Arts, Washington University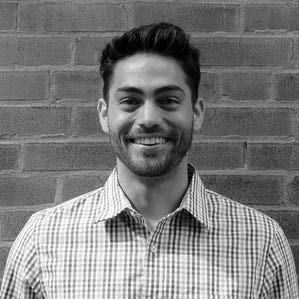 Chad Henry
Director of Research & Innovation Sam Fox School of Design and Visual Arts, Washington University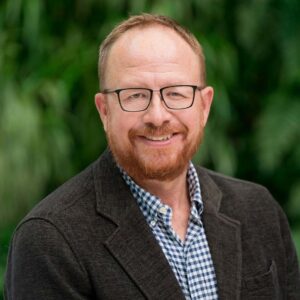 Awards
$3,000 FIRST PRIZE
+WEBSITE PUBLICATION
$2,000 SECOND PRIZE
+WEBSITE PUBLICATION
$1,250 THIRD PRIZE
+WEBSITE PUBLICATION
Schedule
MONDAY, FEBRUARY 6, 2023, 6:00 P.M. CST
EDEN SEMINARY CHAPEL: Opening Event
SATURDAY, FEBRUARY 25, 9:00-7:00 CST
EDEN SEMINARY CLASSROOMS: Workshop I
FRIDAY, MARCH 24, 3:00-7:00 P.M. CST
SATURDAY, MARCH 25, 9:00-7:00 CST
SAM FOX SCHOOL OF DESIGN: Workshop II
MONDAY, APRIL 17, 6:00 P.M.
KUEHNER COURT, SAM FOX SCHOOL OF DESIGN: Awards Ceremony and Judges Panel
Rules / Guidelines / Environmental
Considerations
Teams must include at least three members and may have up to five.
Each team must include at least one Eden Seminary student, and at least two Sam Fox School of Design & Visual Arts students.
Under no circumstances can members of the jury see, review or have any knowledge of a proposal prior to the submission. Doing so will automatically disqualify the proposal from the competition.
Proposals should consider environmental impacts, remediation, and sustainability.
Terms
This competition is an ideas competition and will not result in any realization of actual construction. Additionally, no existing conditions will be altered or removed due to this competition.
Competition organizers reserve the right to make any changes to this document and the competition.
Eden Seminary and Washington University are not responsible for any in person research done on or around the competition site. Please abide by local laws.
Breaking of rules and regulations set in this competition brief will result in the disqualification of the given team.
All material submitted to the competition will become equal property of Eden Seminary and Washington University and therefore will give Eden and Washington University all rights to publishing and using the material. Authors of the materials will be properly credited in publications. Eden Seminary and Washington University maintains the right to modify any information in its files in order to better adapt it to any publishing method